Why Smith Mountain Lake, Virginia?
Today, Smith Mountain Lake Virginia offers water sports and relaxation activities to match anyone's idea of fun. Whether you enjoy fishing, swimming, or sunbathing, Smith Mountain Lake has a little something for everyone. The area offers challenging mountain hiking and biking, camping, golfing, fireworks displays, and an array of shopping and antiquing opportunities. In addition to its year round entertainment, the lake is also host to many seasonal festivals, such as: the annual wine tasting festival; the SML fall festival; and, a particularly hot event, the SML Fall Chili Festival.
Smith Mountain Lake is also considered one of the top-rated fishing spots not only in Virginia, but in the entire country. The area consistently produces some of Virginia's largest freshwater stripers, which includes Virginia's state record of over 50 pounds. Fishing aficionados will be pleased to find a stock of smallmouth bass, largemouth bass, blackmouth bass, crappie, catfish, walleyes, and muskellunge.
Smith Mountain Lake is a man made lake (see the satellite map of Smith Mountain Lake) created by Appalachian Power Company, which is now known as American Electric Power. The gap between Smith Mountain and the winding Roanoke River offered a perfect site for a hydroelectric and storage pump facility. The Smith Mountain Lake Dam was completed in 1963. Three years later the lake reached its mature capacity–producing a spectacular residential location on a breathtaking water basin.
Information page on the dam sponsored by American Electric Power
Smith Mountain Lake water levels provided daily by The US Army Corps of Engineers
 Bed and Breakfast, Hotels and Motels:
Smith Mountain Lake Information:
The Surrounding Counties:
Area Public School Information:
What Others are Saying...
---
Get Connected!
Use our twitter and facebook pages to share your passion for Smith Mountain Lake - The Crown Jewel of the Blue Ridge!
---
NOW AVAILABLE:
The Definitive Guide to Smith Mountain Lake Real Estate
By Paul Moore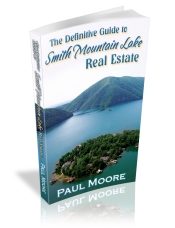 Order now to get this must-read book!
---
Featured Home
Smith Mountain Homes
16503 Booker T. Washington Hwy.
Moneta, VA 24121
Toll Free: (877) SML-HOME
Fax: (540) 904-4501