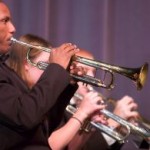 When I first read this in some newsy email about Smith Mountain Lake I had to go and verify that it was true: Liza Minnelli w/ the Roanoke Symphony Orchestra!
Hard to believe someone so famous is going to be just down the road from Smith Mountain Lake. But sure enough you can buy tickets for Friday, September 10th at 8pm at the Roanoke Civic Center to see Maestro David Stewart Wiley and the Roanoke Symphony Orchestra, performing  with Liza Minnelli!
As you can imagine all seats are reserved for this fabulous event. Tickets range from $25 seats in the upper corners of concourse on up to $75 seats at tables (which seat 8 people). Dinner is an extra $25 served by the well-known Encore Catering by Ovations. Dinners are available for purchase in advance and will be served at 6pm. allowing plenty of time to eat before the entertainment.
Tickets on sale through HometownBankTix.com, the Roanoke Civic Center Ticket Office, or charge by phone at (877) 482-8496. For more info. or to see the coming season of events visit RoanokeCivicCenter.com.