Smith Mountain Lake VA Real Estate for Sale
Ready to Live Your Waterfront Dream? We Can Help You Find The Perfect Waterfront Property For You...
In Fact, We Wrote the Book On It!
Welcome to Smith Mountain Lake's premier site for waterfront homes, lots and condos. This is the place to locate and eventually acquire your dream home.
If you've been to Smith Mountain Lake Virginia, you know why they call it "The Crown Jewel of the Blue Ridge." Thousands who flock here know it's one of the most beautiful spots in America.
Even though it's been acclaimed in the New York Times, USA Today, and HGTV's House Hunters (featuring our founder, Paul Moore), Smith Mountain Lake remains undiscovered by the vast majority of future waterfront homebuyers.
Which is Great News for You!
Trends indicate that masses of baby boomers plan to retire to both waterfront and mountain properties in the next decade. Smith Mountain Lake offers the very best of both!
This website is your portal to locate and acquire your waterfront dream property. Whether you're looking for a retirement home, a weekend spot to steal away to, or an investment property, we've got 'em all right here. In fact we have access to every home, lot, condo and townhome… in the Smith Mountain Lake VA region.
We specialize in waterfront property, but we also help buyers acquire water-access homes, off-water properties, farms and…
Everything in between.
Some listed… others not. (We can help you find a hidden gem!)
If you're looking for expert counsel on buying or selling property, we've got that, too. Our founder, Paul Moore, is the author of The Definitive Guide to Smith Mountain Lake Real Estate. This acclaimed 211-page book has helped scores of buyers save thousands of dollars finding their Smith Mountain Lake dream home. [GET IT HERE]
"Mr. Moore did everything he said he would, when he said he would and was completely dependable."

Kennth Crosson
WDC Area Attorney at Law
"With Paul's incredible customer service, we found the decision to buy at the Lake to be a very pleasurable experience."

David Stevens
FHA Commissioner & HUD Deputy Secretary
"Paul Moore took the worries and pressures of buying a property, and made it a pleasant and worry free experience for me."

Scott Marvin
Silicon Valley Marketing VP
"Paul Moore's thorough attention to detail, generosity, and self-less dedication to our interests were present from start to finish."

Jeff Turner
Co-Founder of N. VA High Tech Surveillance Firm
"In this day and age, excellent service is the exception and not the norm and Paul provides this extremely well."

China & Hunter Levan
Co-Founders of Williamsburg Safety Compliance Firm
Paul was the only lake REALTOR® in the U.S. selected by HGTV for their recent waterfront week special edition. This show was viewed by millions around the world, and has heightened interest in Smith Mountain Lake even more. [WATCH IT HERE]
The Lake's Top Real Estate Team
Our team of seasoned lake experts is ready to assist you in all of your real estate needs here in the Smith Mountain Lake region. Call us today at 1-877-SML-HOME or 1-877-SML-LOTS. [Or EMAIL US HERE]
Many of our buyers take their first step by "attending" our Smith Mountain Lake buyer's course... right at their own computer! This free online course covers every aspect of Smith Mountain Lake real estate. You can go through this simple class at your leisure. When you're done, you'll be armed to the teeth with powerful information that can…
Help you save thousands on your waterfront dream home
Make your real estate purchase quick and easy
Help you avoid buying a home you'll regret
Give you ideas for improving your view, getting the best boathouse and much, much more!
Tell us your first name and email address (we'll keep it strictly private) and you can start your free e-Course right now. [SIGN UP HERE] Don't buy property at Smith Mountain Lake… with us or any REALTOR®… 'til you go through this free online course!
We look forward to hearing from you, and sharing Virginia's Best Kept Secret with you in person! Please contact us today. Call anytime it's convenient for you.
1-877-SML-HOME (1-877-765-4663)
1-877-SML-LOTS (1-877-765-5687)
What Others are Saying...
---
Get Connected!
Use our twitter and facebook pages to share your passion for Smith Mountain Lake - The Crown Jewel of the Blue Ridge!
---
NOW AVAILABLE:
The Definitive Guide to Smith Mountain Lake Real Estate
By Paul Moore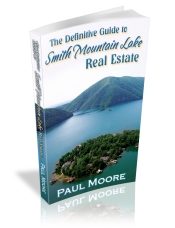 Order now to get this must-read book!
---
Featured Home
Smith Mountain Homes
16503 Booker T. Washington Hwy.
Moneta, VA 24121
Toll Free: (877) SML-HOME