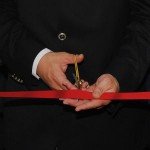 More new business coming to the area to benefit Smith Mountain Lake residents. Grand Openings and Ribbon Cuttings are always enjoyable events with good food,  interesting conversation and sometimes even prizes.
Lake Home Medical (across from Kroger) is having an Open House and Ribbon Cutting Cermony on Thursday, April 2 from 11 am to 1 pm. The ribbon cutting is 11:45 am. You'll find delectable finger foods and drink for lunch.Lake Home Medical is an affiliate of Franklin Respiratory and Medical, Inc., continuing 28 years of service to the community.
If you love Mexican food you won't want to miss this Grand Opening. El Torito is having a Grand Opening/Ribbon Cutting at their new location, Lakewatch Plantation, Tuesday, April 7th at 5:30 pm. The event will last from 5 to 7 pm., and feature delicious Mexican fare.
Merchant Institute of Health and Wellness is all about your health. Come enjoy their Grand Opening and Ribbon Cutting on Wednesday, April 15th from 11:00 am to 1:00 pm at Westlake Commons. Their programs focus on your health and wellness including Life Coaching/Self Mastery, Tai Chi classes and complete Weight Loss programs. Come to the ribbon cutting and learn more while enjoying Tea and Finger sandwiches.