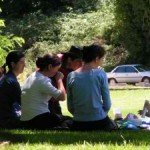 There is no better place for a picnic than Smith Mountain Lake. And the ideas for picnic food are as many an there are stars in the sky. Everyone has their own ideas of what sounds like fun food, and mine are to keep it light. I want something tasty and filling but light and refreshing. Here are some recipe ideas for packing a picnic basket.
FROSTED WATERMELON/CANTELOUPE
What You Need:
1/4 cup raw sugar or evaporated cane juice
1/4 cup organic lime juice (from 1 1/2 limes)
2 teaspoons finely grated organic lime peel
1 medium cantaloupe  cut into small wedges
1 large piece de-seeded watermelon – aprox. 5lbs. cut into small wedges
Beat raw sugar and 1/4 cup hot water till it dissolves.  Then stir in lime juice and grated peel. Cover and refrigerate until cool and store in frig for up to 3 days. Also store melons in frig at least 24hrs. prior to picnic (you may cut into slices ahead of time if desired).
As close to the time of your picnic as possible, drizzle the liquid portion over melon slices and put in freezer for a half hour.  Put in cooler with ice when packing for picnic.
TURKEY AVOCADO SANDWICHES
1 medium avocado (be sure it's ripe)
2 large organic tomatoes
1 tablespoon fresh or dried chives
1/2 teaspoon sea salt
1/8 teaspoon freshly ground black pepper
1 loaf 100% whole wheat bread
2 tablespoons Dukes mayonnaise
1/2 pound sliced organic turkey
First mash avocado well and stir in chives, salt, and pepper. Spread avocado mash over half the slices of bread in the loaf and put mayo on the other half the loaf. Then put on turkey slices and tomato and put the halves together. Cut sandwiches into halves or 3rds and keep in frig till picnic.