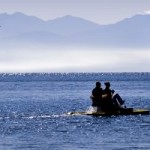 If you live at Smith Mountain Lake, love being on the water, and have not heard of a 'Craigcat', chances are you will before too long. I heard about a pair of brothers locally who were selling the coolest little compact boat ever and so I wrote to ask them about it.
The Craigcat sounds and looks extremely interesting, and if you visit the website he mentions, you may just fall in love with this little darling. I know the Craigcat will be on my Christmas wish list.
Here is how Alex McDaniel got into the Craigcat business and how you can find out more info. about the boat for yourself: "My mother came across this unique product and ask if my brother and I would be interested in selling these boats. We took a trip to the manufacturer's location and factory in Orlando, FL and here we are today in business to sell Craigcats.
The Craigcat is a very unique product designed/built by a 30-year catamaran builder. The product itself has been around since 1990 and it started much like what you see at www.craigcat.com, which is called a classic. It has morphed into a multi-use "power cat" that can become a fishing boat or hunting boat painted in Camo. There is even a green-friendly version in electric or gas electric, or solar. The price ranges vary from $2,691.00 – $6,129.00 in the electric models and start at $6,999.00 and go to $11,476.00 in the 4-stroke versions. Our goal for bringing this product to the lake was to help out in the low water situations you find in some areas plus they are a lot of fun. I hope to do rentals in the future but I am just starting and I want to grow in that direction. If you have any questions that are more directly dealing with a topic about them I will be happy to answer them."
Alex McDaniel
Treasurer/Sales Manager
Smith Mountain Lake CraigCat, LLC
14112 Booker T. Washington Hwy
Moneta, VA 24121
540-420-4821 (Office)
540-797-3855 (Cellular)
540-721-2605 (Fax)
Free Download
The Definitive Guide To Smith Mountain Lake Real Estate
Everything you need to know about buying or selling property at Smith Mountain Lake.