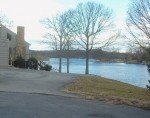 Many, many buyers we worked with from 2003 to 2006 lamented their lost opportunity to buy their  Dream Home at Smith Mountain Lake in the good old days of the late 90s through about 2001.  That was before Smith Mountain Lake was discovered by affluent people all over the East and mortgage money flowed like water over the Niagara spillway.
I can't tell you how many buyers… some nearly in tears… told me of glorious retirement plans that were shattered by the approximate tripling of prices in a short time.  Many others planned to buy a weekend getaway here to reconnect with their families or visit their kids at Virginia Tech, but their plans were dashed, too.
If you're still considering making a waterfront property purchase here, I'm writing to give you hope… and a warning.
IT APPEARS THAT WE MAY HAVE REACHED THE BOTTOM… AND ARE ABOUT TO SEE A SUDDEN REVERSAL.
So if you want to buy while it's still a buyer's market… a critical factor if you want to have the widest selection and get the best deal… you might want to consider acting soon!
Why do I say this?  First of all, I can tell you that we're seeing a dramatic increase in serious inquiries… and purchase contracts… since Labor Day.  These past 5 months have been surprisingly busy for our agents, and other lake agents I'm talking with.
Remember, the markets are based as much on perception as fact, and if sellers are hearing about a market turnaround… and their agents can show them facts to back it up (they can)… we are going to start seeing prices increase, bargaining becomes more difficult, and selection start to dramatically narrow.
More on this in my next post.
Free Download
The Definitive Guide To Smith Mountain Lake Real Estate
Everything you need to know about buying or selling property at Smith Mountain Lake.