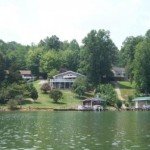 The Wall Street Journal did a front page story last week called Market for Vacation Homes Is On the Rise.  It begins: "Sales in many vacation communities across the U.S. soared last year to levels not seen since boom times, driven by deep discounts, cash purchases and rising stock portfolios."
The article goes on to report on about half a dozen resort communities – several similar to Smith Mountain Lake – that experienced dramatic upticks in sales in 2010… especially in the fourth quarter.
On Mercer Island, Wash., waterfront sales nearly tripled in 2010, compared with a year earlier, reaching par with 2006 volume there.  Sales on Hilton Head Island, S.C., rose 14% for the year.  Palm Beach, Fla., experienced a 40% annual increase and a 54% increase in homes under contract, indicating an especially strong fourth quarter.  Palm Beach sales volume now is comparable to it 2007 peak…"  [WSJ January 10, 2011, pg. 1]
It seems to me that the combination of falling prices, rising optimism, flourishing stock portfolios and an unwavering demand for the glory of Smith Mountain Lake are now converging to bring about this new market reality.
So what does this mean to you?
I can't guarantee this is the bottom of the market.  Yet.  But I can prove to you that there are still some amazing deals to be had.  And there's still a huge inventory of fantastic waterfront homes and lots to choose from here at the lake.
Take for example our newest Smith Mountain Lake real estate listing below.  It boasts over 330 feet of shoreline on a prime half-point lot in a pristine section of the lake.  It includes a passable vacation home and a nice dock.  Bedford County had it assessed at over $1.1 Million from 2007 through 2010.  You can get it now for $699,000.
If my guess is right, this home will be sold in a short time.  And many others like it will soon become unavailable as well.
We're don't have a crystal ball, but we can see the handwriting on the wall.  (Hey, that rhymes!)  This is a great time to buy your waterfront dream home here at our Crown Jewel of the Blue Ridge!
If you have been delaying your purchase… waiting for the market to hit bottom…it looks like you made a great call!  But now it's time to act.
Don't delay any longer.  Please give us a call right now at 1-877-SML-HOME or call your agent.