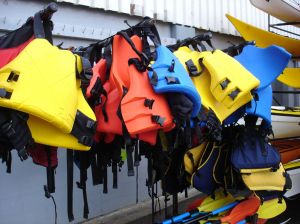 We all know that safety on the water is of utmost importance. Yet all too often it is difficult to get everyone to wear their life vests when out for the day on Smith Mountain Lake. For those who are resistant to keep their life jackets on, take a look at this Unique Kind of Life Jacket. It might intrigue you and save a life. Thanks to Rhode Islands Information Waterway for this interesting information.
"Last winter, I had a job operating a fleet of small boats for the US Navy, and we were required to wear SOSpenders at all times. That was my first experience with SOSpenders, and I was pleased with how comfortable they were. Although I don't wear them all the time on board the Safe/Sea Salvor, I do don mine when offshore in rough conditions. (Of course, the Safe/Sea Salvor being an inflatable boat, I feel like I am driving a huge life jacket when behind the wheel. With her foam floatation, she is unsinkable).
The SOSpenders I have will automatically inflate if I fall in the water. Some models require the user to manually activate the inflation device by pulling a lanyard. While the automatic inflation option costs a little more money, I feel that is the only style that makes any sense. If I find myself in a situation where I suddenly and rapidly need a life jacket, the odds are that something really bad has happened, and I may be injured or incapacitated; otherwise, I would have had time to dig out and don a traditional, big orange PFD from the aforementioned lazarette, right? If that's the case, I want the thing to just inflate itself, rather than have to fumble around in the cold, dark water, reaching for some little pull cord.
Overall, I would rate the SOSpenders a ten. Their design overcomes the objectionable characteristics of traditional, bulky life jackets, meaning that most people are willing to wear them whenever they are boating. The automatic inflation system is almost instantaneous, and I hardly noticed the inflation process. Once inflated, the life jacket is comfortable, secure and adds a full 35 lbs of buoyancy. I hope I never need these things, but if I do, I now feel confident that the SOSpenders will perform as advertised." Truly a Unique Kind of Life Jacket indeed.
To read a whole lot more about Sospenders, please visit http://www.landfallnavigation.com/sospenders.html
Free Download
The Definitive Guide To Smith Mountain Lake Real Estate
Everything you need to know about buying or selling property at Smith Mountain Lake.