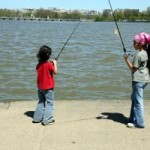 July 15th will be the second Smith Mountain Lake Striper Club "Ladies Day Out". What is that you ask? Well, we all know that fishing is not just for guys right? The SML Striper Club (that's bass fishing for those who aren't familiar with it) has just made it official. Once a month (the first one in June of this year) they have planned a day on the lake for women only, with fishing captain Dewayne Lamb.
Sound interesting? There's no reason why all you gals who love the water and need a break from your regular routines, can't come on out and have a good time. Ordinarily, I just find the facts and pass them on to you, but I thought the Striper Club had a cute advertisement so I am including it for your enjoyment.
Move Over Boys – The Girl's Are Onboard!! June 10th was the o-fish-ol launch of the SMITH MOUNTAIN STRIPER CLUB Ladies Day Out w/ Capt. Dewayne Lamb.  Looking for a way to meet new friends for fun, fishing, socials, and field trips? Desperate Housewife? Nine to Five? Drop the stress, ditch the mess, and come find your "inner fish." Join the Chix – the hottest new group on SML! The next "Port-o-call" is Tues. July 15th, 5:30 on the deck at Mango's!!
For more information contact: Cindy at smsc@smithmountainstriperclub.com or Angie at acbehan@cox.net.
Free Download
The Definitive Guide To Smith Mountain Lake Real Estate
Everything you need to know about buying or selling property at Smith Mountain Lake.