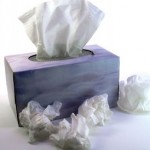 Allergy season at Smith Mountain Lake is in full swing. Sneezing, coughing, watery eyes, runny nose, headache, congestion, and even mild dizziness are symptoms I hear from folks wherever I go these days. And of course, it is not hard to see the cause when your vehicle is coated with yellow dust in the morning and it looks like fog in the distance on a fine sunny day.
We know the heavy pollen season will pass, but in the meantime what can be done to help those of us who have every allergy symptom in the book, to cope? A little research and a few conversations with folks at our local health food stores reveal a few natural allergy aids.
– Quercetin is very popular with customers who say the bioflavonoid significantly reduces their allergic responses.
– Vitamin C is touted as a natural antihistamine and immune system strengthener.
– Alfalfa is rich in many nutrients that fight allergies, especially chlorophyll (the green stuff in all plants).
– Aller-Pure by Irwin Naturals is a best seller that combines a variety of herbs and vitamins to combat allergies.
– Most important of all is to build your body's ability to combat all immune issues by eating lots of fresh fruits and veggies and avoiding processed, refined, sugary foods that weaken your immune system.
Don't just sit there and suffer or think that over-the-counter meds that make you drowsy are your only options. Join the ranks of those who have gotten relief naturally.