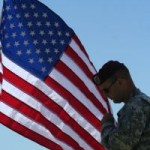 Smith Mountain Lake has discovered a way to provide support for our troops serving overseas – that all of us in the community can participate in on November 11th, at the Westlake Kroger.
This will be the second supply drive for an adopted troop of 103 serving in Iraq. They have sent several truckloads with over 1000 pounds of supplies that our soldiers need. These soldiers are far from the forward operating bases where supplies are more plentiful. They are extremely appreciative to know that we in America support their efforts and sacrifice.
There have been many e-mails and letters from our soldiers telling how much this means to them. They are on patrol 16-20 hours per day and have to carry all rations in their pockets and eat and wash with baby wipes on the run. Summer is extremely hot and winter is harsh. Because of this, the SML Striper Club adopted a platoon through www.anysoldier.com, where over 3,000 platoon leaders have registered to receive care packages, supplies, and letters for their troops.
When the soldiers receive the boxes they say it is just like Christmas and raises their spirits and the platoon's morale. Please pass this information along so that folks will know how they can support their soldiers who are in harm's way. Many people want to give but just don't know what or where.
On Tuesday, November 11th, at the Westlake Kroger from 10 am – 3 pm, there will be another supply drive to send to our soldiers in Iraq. People came out by the hundreds to the last booth that the Striper Club had in Roanoke so be sure to stop by the Westlake Kroger with your contribution.
Needed items:
baby wipes
toilet paper
books/magazines/CDs/DVDs new or used
socks, boots, winter coats, hand and foot warmers, gloves
granola/cereal bars
Tuna/chicken/spam pouches, not cans, please
dried or plastic cups of fruit
jerky
trail mix
Vienna sausages/crackers
powdered drink mix singles
hot chocolate/coffee/flavored creamers
hard candy and beanie babies, soccer balls for the Iraqi children
letters and cards from Americans who care about them.
(There will be a notebook on site for messages to the troops.)