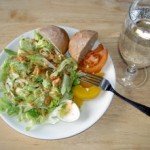 As the weather begins to warm at Smith Mountain Lake and throughout our lovely state, I find myself more and more interested in fresh fruits and vegetables. For some reason the thought of cooked food in the heat of the day is not very appealing as lunch time finds me in 80 degree weather. Like water is more satisfying to my thirst than other beverages, so is fresh produce more inviting and nutritious sounding for a mid-day meal.
However, for those of you who also crave some stronger protein with your luncheon, I found a recipe that offers some great compromise on My Recipes.com: White Bean Salad with Chicken and Sugar Snap Peas.
Ingredients
2 cups sugar snap peas
1/2 pound boneless,skinless chicken breasts
1/2 teaspoon freshly ground black pepper, divided
1/4 teaspoon salt, divided
1 teaspoon vegetable oil
2 cups arugula
1 (19-ounce) can cannellini beans, drained and rinsed
1/2 cup chopped Vidalia green onions
1 garlic clove, minced
1/4 cup fat-free, less-sodium chicken broth
1 tablespoon chopped fresh parsley
2 tablespoons fresh lemon juice
1 tablespoon cider vinegar

Preparation
Steam snap peas, covered, 3 minutes. Drain and rinse with cold water.Sprinkle chicken with 1/8 teaspoon pepper and 1/8 teaspoon salt. Heat oil in a medium nonstick skillet over medium-high heat. Add chicken; cook 4 minutes on each side or until done. Remove from pan; shred chicken; place in a large bowl. Add snap peas, arugula, and beans to ckicken; toss well.
Add onions and garlic (to chicken broth); cook 3 minutes or until soft, stirring frequently. Remove from heat; add remaining pepper, 1/8 teaspoon salt, broth, and the remaining ingredients. Drizzle dressing over salad; toss to coat. Serve immediately
Yield
4 servings (serving size: 1 3/4 cups)
Nutritional Information
CALORIES 229(23% from fat); FAT 5.8g (sat 2.1g,mono 2.3g,poly 1g); PROTEIN 20.8g; CHOLESTEROL 39mg; CALCIUM 103mg; SODIUM 550mg; FIBER 6.2g; IRON 2.6mg; CARBOHYDRATE 22.7g
Cooking Light, APRIL 2002