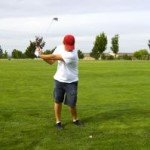 On July 21st and 22nd, the annual Andrew Haley Memorial Junior Golf tournament will be held at Smith Mountain Lake, Va. This Memorial Golf Tournament began in 1991 to honor Andrew Haley, a young member of the Carolina Professional Golfer's Association of America, who died when he was 24 in a tragic car accident.
Also in 1991, the Smith Mountain Lake Lions Club began the SML Lions Junior Open, which was organized to offer more competitive opportunities for junior golfers. In 2007 these two tournaments were combined into one Smith Mountain Lake event. The tournament is open to all amateur boys and girls with established handicaps.
The first day will be played at Mariners Landing Golf & Country Club and the 2nd day at The Waterfront Country Club. The tournament consists of 36 holes of stroke play during the two days. The junior golfers will be divided into age brackets 10-13, 14-15, and 16-18. For information or to download an application, visit Mariners Landing or call (540) 721-3241.