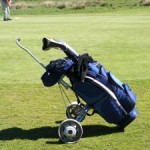 The Smith Mountain Lake 14th Annual Corporate Golf Cup will be held Monday, May 24th at the Waterfront Country Club.  This game will be a great opportunity to make business connections and get your corporation in the limelight.
The 18-hole event is a modified four-person best ball with prizes awarded. Lunch will be at 11:30 am and the Tee Off at 1:00  pm. Other great perks will include free lunch as well as cart and green fees. Refreshments and a grand awards/prize ceremony will cap off the event.
If you and others in your company love to golf, then you can combine business with pleasure by entering the Corporate Cup. The tournament field is limited to 100 players, so please return your entry form as soon as possible to ensure your spot.
If you would like to donate a $100 prize, get your banner on a green, or if you're interested in one of our sponsorship packages, please contact the Smith Mountain Lake Regional Chamber of Commerce at 540-721-1203 or 800-676-8203 or send an email to: jims@visitsmithmountainlake.com
Free Download
The Definitive Guide To Smith Mountain Lake Real Estate
Everything you need to know about buying or selling property at Smith Mountain Lake.