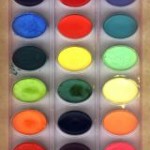 Smith Mountain Lake boasts much evidence of the arts in a variety of formats for those who enjoy art. While some appreciate modern art in the form of paintings, others like sculpture or watercolors. Whatever your favorite artist may be, come and experience something new at the Garden Party in Bedford every day until July 31st.
At Goose Creek Studio, which can be found at 330 W. Washington St. in Bedford, you will find the "Garden Party". Does Chinese brush watercolors sound interesting? This presentation of beautiful art is by Lee Walker and will be on exhibition until July 31st.
Goose Creek Studio offers quality custom framing and hospitable exhibition space featuring local and regional artists.  Contact (540) 586-8482 or visit www.goosecreekstudio.com.