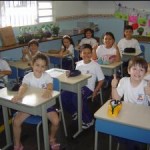 It's hard to believe that school is within a few weeks of starting back up at Smith Mountain Lake and surrounding communities. It seems like the summer has just begun. But in reality, it is time for families to start thinking of what their children will need this school year. Thankfully the government appreciates the need to get ready for another school year and has made it a little bit easier to enjoy savings as you make your preparations.
Virginia offers a back-to-school tax-free holiday for two days this month (and every year), beginning Friday, August 7th, and running through Sunday, August 9th. During these three days, many school supplies costing $20 or less each and clothing items and footwear costing $100 or less each will be exempt from Virginia's 5 percent sales tax.
These 2 tax-free days include purchases of items like pencils, pens, binders, paints, musical instruments, and calculators, as well as pants, shirts, formal wear, shoes, flip-flops, and even uniforms. Lists of exempt items, along with guidelines for the sales tax holiday and a set of frequently asked questions, are available on the Tax Department's Sales Tax Holiday Information Center at www.tax.virginia.gov.