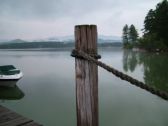 Beginning Friday, April 13th,  ESPNs, Carhartt East Super Regional, the official Collegiate B.A.S.S. fishing tournament comes to Smith Mountain Lake's Bridgewater Plaza.  Scheduled to bring in over 150 college teams from Louisiana to Maryland to compete, this tournament top prize a coveted spot in the 2013 Bassmaster Classic.  Created in 2006, Tournament Director Hank Weldon said that they only had 20 teams.  Now over 200 teams from all over the country participate.  Already on the lineup for Smith Mountain Lake are ten teams from Virginia Tech, eight teams from Radford plus many more from as far away as Texas and Alabama and regionally like West Virginia.   Bass Blast Week at Smith Mountain Lake will be filmed and televised on ESPNU to over 73 million households.    Launches and weigh-ins will take place at Bridgewater Plaza.  Launch times are scheduled for 7:00 a.m. with weigh-ins taking place starting at 3:00 p.m.  Come early because parking will be limited. FREE Shuttle services are provided by T-N-T and the "Cool Bus" on Saturday from 12:00 p.m. to 5:00 p.m.  Park at the Trinity Ecumenical Parish – 40 Lakemont Drive, Moneta VA 24121.
And just when you thought the week was over…..Oakley Big Bass Tour – Blue Ridge Big Bass Classic returns for its second year on Smith Mountain Lake, April 21 & 22 – Bridgewater Plaza.  This all-amateur tournament with hourly weigh-ins had a record number of anglers last year participating for the first time.  This year we expect 300 to 400 anglers trying for the hourly cash prizes from $100 – $500 to the total two-day weight prize of a 2012 Triton Bass Boat.  This tournament is an affordable $150 to enter for the two-day tournament.  More details can be found at www.oakleybigbass.com.   Weigh-ins will begin at 8:00 a.m. and will run hourly to 3:00 p.m. You don't want to miss all the activities planned for Saturday, April 21st starting at 10 a.m. with a special appearance from "Moonshiner Tim" from the hit cable TV series "Moonshiners" on the Discovery Channel.  A FREE shuttle will also be offered on Saturday, April 21st beginning at noon by T-N-T and the "Cool Bus".  Please park at the Trinity Ecumenical Parish, 40 Lakemont Drive, Moneta VA 24121.  The last shuttle leaves Bridgewater Plaza at 5:00 p.m.  The Oakley Big Bass Tour will be televised on the World Fishing Network and Fox Sports South and Midwest. 
Many thanks to the local sponsors, Bedford & Franklin County, Roanoke Outside, RVCVB, Bridgewater Plaza, and Bridgewater Marina. There are limited vendor spaces still available.  Please contact Debra Weir, at debraweir@franklincountyva.org or via phone at 540-420-8501.
Free Download
The Definitive Guide To Smith Mountain Lake Real Estate
Everything you need to know about buying or selling property at Smith Mountain Lake.