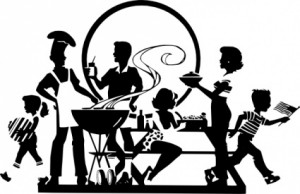 There are times when you want to go out and do something quiet and relaxing…..and then there are times when the whole family just wants to party! On Saturday, April 27th from Noon to 6 pm. on Rt. 122 in Moneta, Va. you can do just that! You don't want to miss Smith Mountain Lake's Regional Chamber of Commerce BBQ Bash event this weekend, because Rockin' Brews and BBQs in downtown Moneta is going to be a boatload of fun!
There will be humongous tents full of food, music, and fantastic entertainment. Just imagine every kind of BBQ on the planet, cold drinks, live bands, and even cool activities for the kids. Tim Martin and the Ministers of Soul will be one of the main events and there will also be a kid's Moonwalk and an Obstacle Course for adults, among other great activities.
Come on out everyone, the Admission is only $5 and your ticket gets you 2 food vouchers, a drink, and kid's activities! Children under 12 get in free! (No coolers will be allowed in.) You can even sign up to be a volunteer and receive free admission. For more information, or to volunteer, contact Lauren at 540-721-1203 or e-mail her at lauren@visitsmithmountainlake.com.
Free Download
The Definitive Guide To Smith Mountain Lake Real Estate
Everything you need to know about buying or selling property at Smith Mountain Lake.