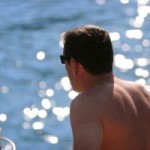 The summer is so full of promise at Smith Mountain Lake, Virginia. The air is clear, the water is blue, vacation time is coming, tons of fun things to do in the area, and plenty of gorgeous hot weather to enjoy it all.
Just don't forget that the same beautiful hot sun can be very dangerous. Many folks think that heat stroke is a condition that just hits the elderly, the very young, or those already weakened by illness. That is simply not the case.
A friend who lives here in Franklin County used to raise border collies. A couple of summers ago, she learned a lesson about the danger of a hot day – the hard way. Some friends and family were at the lake and she tied her beloved female border collie in the shade of a big tree with a bowl of water,  near where they were visiting. After just a couple of hours, the dog collapsed and we rushed her to an emergency vet, who bathed her in cold water and gave her fluids. She died that night and the vet said it was a simple case of heat stroke. Don't forget the dog was in the shade and had a water bowl and she was not an old dog.
Around 500 people die each year, and not from over-exercising on a hot day. A fair number of them were sitting in a chair doing nothing when they were struck down. You see heat stroke occurs when the body is unable to regulate its temperature. The body's temperature rises rapidly, the sweating mechanism fails, and the body is unable to cool down. Does this happen more when a person is unwell? Yes, that is a contributing factor but is not the only risk factor.
Michael McGeehin, Ph.D., MSPH, director of the division of Environmental Hazards and Health Effects says that most people underestimate the risks of extreme heat and get into trouble very rapidly.
So while you are loving the summer sunshine, be very careful to stay cool and hydrated in the heat.
Next time learn how to avoid overheating, the signs of heat stroke, and what to do.
Free Download
The Definitive Guide To Smith Mountain Lake Real Estate
Everything you need to know about buying or selling property at Smith Mountain Lake.