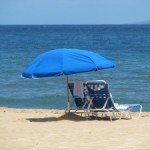 The summer sun turns Smith Mountain Lake into a gorgeous playground for water lovers and outdoor enthusiasts alike. There are a thousand fabulous things to do at the lake in this beautiful season and it is good to breath the fresh air and exercise our bodies. It is important to remember however, that there can be some hidden dangers in the heat and humidity.
Heat exhaustion and heat stroke can lead to permanent damage and even death, and not just for the sick and elderly. Anyone of any age can be overcome by severe heat. If you have a medical condition you may need to come in out of the heat sooner than your neighbor, but everyone of all ages should be careful not to get too hot.
Heat exhaustion can rapidly lead to a heat stroke and permanent damage if not death. It is critical to be able to recognise the symptoms of heat exhaustion if you are outdoors or exercising this summer.
If you have, or notice these symptoms in someone else, go immediately to a cooler place and drink plenty of water or electrolyte replacing drinks, and contact your doctor for further instructions.
– Nausea and vomiting
– Headache and dizziness
– Muscle cramping, clammy skin
– Fast heart beat and fainting
Heat exhaustion can lead to a heat stroke, which can be life threatening. Know that you can become hot enough to have a heat stroke even if you are not exerting yourself physically. Some of the symptoms of heat stroke:
– Extreme headache, fever
– Confusion, delusions, dizziness
– Lack of sweating, with hot, dry skin
– Muscle spasms, seizures
– Fainting, passing out
– Death
Go to the hospital or call 911 immediately if any of the above signs are in evidence. Heat stroke can kill!
Preventing illness is far better than having to try to cure it. You can take steps to avoid heat related sickness:
– First check your weather and try to compensate for the hottest days by planning around them.
– Be sure not to wear tight clothing. Clothes that fit loosely and are made of cotton help keep you cool.
– Do not go outdoors between Noon and 5pm. on hot days. If you don't have AC, plan to be somewhere you will not get too hot during those hours.
– Drink plenty of water, and stay away from caffeine and alcohol. They do not mix well with excessive heat.

Free Download
The Definitive Guide To Smith Mountain Lake Real Estate
Everything you need to know about buying or selling property at Smith Mountain Lake.