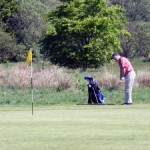 Everyone enjoys it when a new restaurant comes to Smith Mountain Lake that offers a mostly from scratch, focusing on the fresh food menu. And it's even better when you can get a tasty, filling meal for under $10. But "Beyond the Green Indoor Golf " offers that and a whole lot more.
Beyond the Green is unique in that you can play a round of golf on their HD golf simulators as well as enjoy a meal. The simulator includes other games such as hitting golf balls through windows or at a ball-retrieving tractor.
Beyond the Green, which opened this past October 28th, has 22 life-like and well-known golf courses available on two HD golf simulators. These simulators are very much like being on an outdoor golf course but also have computer screens that can provide data on your swings so you can improve your game.
Update January 21, 2018…This restaurant is no longer in business.