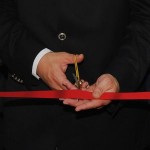 September at Smith Mountain Lake is that wonderful time of year when summer is slowing from a boil to a simmer. And as always, there are items of interest to share with you about the activities happening around the lake. You can enjoy a fall festival, join in a ribbon cutting, take educational classes, and more.
Wednesday, September 10 – Grand Opening/Ribbon Cutting will be held at T-N-T Auto Body Repair located at 5831 Old Franklin Turnpike in Gretna.  The event will begin at 10 AM with the ribbon cutting scheduled for 12:30 PM.  Food and refreshments will be served.
For those of you who missed the original airing of the House Hunters show which featured Smith Mountain Lake Real Estate, the show will be run again on September 22nd at 10 pm. and again overnight.
September 3, 10, 17 & 24- 9:00 AM – 12:45 PM – Quick Books '08 – This class is offered through Virginia Western Community College and the cost is $95 per person.  Classes will be held from 9 AM until 12:45 PM on the specified dates at the Lake Association offices located on Scruggs Road behind the Discovery Shop strip center. Laptop computers will be provided for participants.
Fall Family Portraiture –Appalachian Outdoor Photography – I am now booking family portrait sessions for this fall. This is a popular time and availability is limited. Call NOW at  (540) 719-7520, for a no-cost or obligation consultation. 100 – FREE Christmas cards to the first five families that book their fall session.
MARK YOUR CALENDAR – KING'S GRANT IS HAVING A FALL FESTIVAL!!  SEPTEMBER 27th from 11:00 AM TO 4:00 PM. Come join us on our beautiful 125-acre campus in Martinsville for arts, crafts, jewelry, baskets, pottery, and more. There will be live entertainment, antique cars, and lots of wonderful food. See you there!! Call for more info & directions: 276-634-1000 / 800-462-4649.
CELEBRATION SQUARE IS NOW OPEN! The first of many fantastic new businesses joining the Downtown Moneta community including Downtown Pizza, Freckles Ice Cream Parlor & Hawk's Deli is now open for business. Come see what all the excitement is about!  Experience the charm of Downtown Moneta.
If you are aware of other fun happenings this month that is not on our list, please let us know.

Free Download
The Definitive Guide To Smith Mountain Lake Real Estate
Everything you need to know about buying or selling property at Smith Mountain Lake.