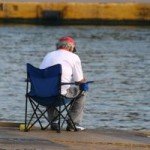 The Smith Mountain Lake Bassmaster Elite Series tournament will be held from April 23-26 this spring. In case you are not familiar with this tournament, it is the most prestigious and competitive circuit in professional bass fishing.
The tournaments are so popular that they are on TV on Saturdays on ESPN2. The "Blue Ridge Brawl", as the tournament is called, will be hosted by Franklin and Bedford counties at the Parkway Marina in Moneta. This event represents an opportunity for area residents to view the world's greatest bass anglers doing what they do best.
The month of April is a great month for bass fishing at Smith Mountain Lake, and all are happy to see the return of the Blue Ridge Brawl (no doubt due in large part to the success of the 2007 Bassmasters fishing tournament) to the lake this year.
You can find more information on the event and their schedule of activities at blueridgebrawl.com or call Susan Martin at 540-586-9401.
Free Download
The Definitive Guide To Smith Mountain Lake Real Estate
Everything you need to know about buying or selling property at Smith Mountain Lake.