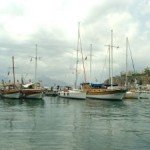 If you are an avid fan of old boats, have your own boat at Smith Mountain Lake, Va., or are a connoisseur of boats, you will enjoy these boating links. Most of these sites are about classic boats and places where you can read of the past and enjoy a little walk on Memory Lane if you have known boats for years.
The first is a site about Lyman Boats. Lyman is one of the truly great names in American boatbuilding. Founded by cabinetmaker Bernard Lyman in 1875, Lyman Boats quickly established a regional reputation for quality lapstrake rowboats and sailboats. Bernard's son Bill grew up in the business and eventually made Lyman a nationally known name with reliable outboards. On this site you can buy the official Lyman Boats book and many other related items, as it is all things "Lyman Boats".
The second site is about Evinrude and Johnson Boats. Between 1962 and 1970 the (late) Outboard Marine Corporation sold fiberglass boats under the OMC, Evinrude and Johnson names Chris-Craft purchased the molds after OMC ceased production. This page is dedicated to those boats.
The next site is about Classic Fiberglass Boats. In July 1998 this site began an attempt to recognize the style and creativity of the original fiberglass boat designs from the 50's & 60's, plus capture the spirit of a time that has since past. This site honors the pioneering minds that conceived and created these beautiful… and never to be made again fiber glass boats.
The fourth site is about Vintage Marine Sales Literature. Original old boat literature is our only business. We have a very large stock of out-of-print original sales catalogs, sales brochures, data sheets, specification sheets, flyers, factory photos, and price lists, from the 1890s to the 1980s. Also, we have service manuals, parts lists, and owners' manuals. These original documents cover over 500 brands of wooden boats, fiberglass boats, metal boats, motor boats, canoes, rowboats, inboard engines, outboard motors, and related marine gear.
This one is about Antique Boats and Parts. Wood Boat Restoration Supplies and Classic Boat Connection is a source for all of your classic and antique boat restoration needs. You can even email them at mail@classicboatconnection.com for a free restoration supply catalog, including stains, varnish, manuals, boat hardware, tune-up parts, gasket sets, rebuilt parts, plus much more.
And the last site is The Antique Boat Center. Antique Boat Center carries a large, ever changing selection of antique boats and classic boats including Chris Craft, Century, Garwood, Hacker Craft, Lyman's and Thompson. Antique Boat models range from 15 to 30 feet. These wooden boats include outboards, speedboats, runabouts, utilities, ski boats, launches, and canoes.
Perhaps you have seen these some of these sites before. But whether they are new to you or familiar, we hope you will enjoy the reading and exploration of their content.