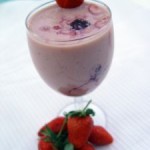 It is Valentine's Day and Smith Mountain Lake abounds with wonderful restaurants and ideas for any and every choice of special meals you could treat your loved ones too.
But some of us will want to make that extra special meal for our wives, husbands, and children in the relaxed atmosphere of our homes. Below are a couple of super sweet and delicious ideas for Valentine's breakfast or even lunch. Be creative and make homemade Valentine's Cards to set on each plate and surprise your family this Valentine's Day!
STRAWBERRY SMOOTHIES
Ingredients:
*2 – 1/2 cups of frozen unsweetened strawberries
*1/2 cup of grape or blueberry juice
*1/4 cup of orange juice
*1 cup of plain yogurt
*1/2 tsp of vanilla
*2 tablespoons of honey
* a couple of fresh sliced strawberries to make a heart on top (optional)
Directions:
Blend strawberries in a food processor, Vitamix, or another heavy blender that is suitable for frozen berries.
Add the juices, then the other ingredients.
Last, add the yogurt and blend until smooth.
Pour the smoothie into glasses and if you wish, slice fresh strawberries to form a heart on top.
This will serve approx. 3 people. Serve chilled or as soon as it's finished.
Breakfast Valentines
– makes ten 2 3/4-inch scones –
Adapted from Alice Medrich's Chocolate Holidays.
Ingredients
1 1/2 cups unbleached pastry flour
2/3 cup sugar or Sucanat (evaporated cane juice)
1 tablespoon baking powder if using Dutch-process cocoa (or a scant 1 teaspoon baking soda if using natural cocoa
1/4 teaspoon salt
10 tablespoons (1 1/4 sticks) melted unsalted butter, hot
1/4 cup plus 2 tablespoons unsweetened cocoa powder, Dutch-process or natural
1 egg, cold
1/4 cup plus 2 tablespoons cold milk
Berries, for serving (optional)
Equipment
2 1/2-inch heart-shape biscuit or cookie cutter
1 baking sheet, lined with parchment (or ungreased, if not lined with parchment)
Procedure
1. Position a rack in the oven center. Preheat oven to 400°F.
2. In a medium bowl, mix the flour, sugar, baking powder or soda, and salt.
3. In a separate bowl, mix the hot butter and cocoa until smooth. Stir in the egg and milk. Pour wet mixture over dry ingredients; fold gently with a rubber spatula, scraping down the sides of the bowl as you go along, just until all of the flour mixtures are moistened. Note: Do not try to make a smooth dough.
4. Place dough on a sheet of waxed paper; pat it into a 10-by-5-inch rectangle (assuming the cutter is 2 1/2 inches). Chill dough for about 15 minutes to firm slightly.
5. Cut out 8 hearts. Use dough scraps to make 2 more hearts. Transfer hearts to baking sheet; bake until tops are dry and cracked and bottoms have begun to take on color—about 12 minutes.
6. Serve warm or at room temperature plain, dusted with evaporated cane sugar, or with barely sweetened cream or fresh berries.