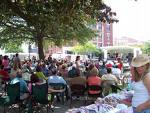 There are many ways to enjoy yourself at and around Smith Mountain Lake, Va. If you are seeking adventure for yourself or your family this month, you are sure to find something nearby to suit your tastes.
Jul 19 – 52nd Annual Horse Show – Two Shows: 12:00 Noon and 5:00 pm – Sponsored by the Ruritan Club. For more information contact Carl Sensabaugh, New London Horse Show, 2368 Terrace View Road, Forest, VA 24551-3522, email: ruritan1.va@netzero.net – New London Club House, 12411 E. Lynchburg-Salem Turnpike, US 460, 6 miles West of Lynchburg, Opposite New London Elementary School. – $5.00 Donation.
Jul 19 – Hollywood in the Hills presents Surf's Up – Dusk – Bring your blankets and lawn chairs for our outdoor movie event. In this Surf's Up Movie in this animated mockumentary, film crews go behind the scenes at the Penguin World Surfing Championship to provide a close-up look at the inventors of surfing.
Yes, penguins were the first species to hang 10 — or at least that's what this film purports. Animators Ash Brannon and Chris Buck co-direct the spoof, and Jeff Bridges, Zooey Deschanel, Brian Benben, Jane Krakowski, Michael McKean, and James Woods, among others, lend their voices. – Bedford Elementary School Athletic Field, Behind the Bedford Welcome Center, Tiger Trail, Bedford – Free – 540-587-5681
Jul 24 – New Orleans Style Jazz Night featuring William Penn Duo – Mariner's Landing, 1217 Graves Harbor Trail, Huddleston – 540-296-1215 – www.marinerslanding.com
Jul 29 – Summer Music Games of Southwest Virginia – Carolina Crown, Colts, Glassmen, Mandarins, Pacific Crest, Santa Clara Vanguard & Teal Sound. Premium seats are $25.00, Regular seating for adults is $20.00, and Children under 12 are $10.00. – Salem Football Stadium, Located near Salem Civic Center, Salem – 540-343-8100 – www.salemciviccenter.com
Jul 30 – Aug 3 – Mountain Valley Cluster Dog Show – 8:00 am – For show schedule go to www.infodog.com – Salem Civic Center, Salem – Free admission – 540-343-8100 – www.salemciviccenter.com
Thanks to the Bedford Chamber of Commerce for information on many of these events.
Blackwater Yacht Racing Association
sponsors fun events as well as the opportunity for a great new hobby.  For further details contact
Pete Phillip
at
540.719.0009
or visit
www.byrasailing.org
.
Free Download
The Definitive Guide To Smith Mountain Lake Real Estate
Everything you need to know about buying or selling property at Smith Mountain Lake.