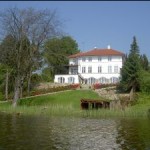 There have been some great improvements made at the Smith Mountain Lake Visitor Center. Near the beginning of this month, the renovations began on the Center and have progressed until the present. The changes are ones worth seeing.
It's amazing how a fresh coat of paint, some wall space highlighting and other improvements can go a long way toward a new and fabulous-looking place. In addition to maximizing the wall space, there is now a "Visitor Center Video Wall" incorporating a High Definition Flat Screen LCD TV and DVD player. This "Video Wall" will showcase local businesses and SML Chamber members with video billboards and videos highlighting the Smith Mountain Lake area and events. Come by the Smith Mountain Lake Visitor Center and check out their new look.
Free Download
The Definitive Guide To Smith Mountain Lake Real Estate
Everything you need to know about buying or selling property at Smith Mountain Lake.