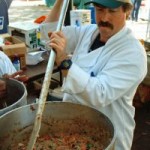 Smith Mountain Lake, Virginia will hold its 6th Annual Chili Festival on November 1st from 11:00 am. to 4:00 pm. at Bridgewater Plaza on the lake. Is there anything more aesthetically pleasing than a bowl of hot chili warming your hands in the frosty November air as you laugh and enjoy the company of friends?
Come on out and join your neighbors at the SML Chili Festival on the first Saturday in November. You can bring the whole family since it's only $5 per person and kids 6 years old and under can come for FREE. Great chili samples, plenty of entertainment, fun crafts and vendors, interesting shopping, taking lakeside strolls, and breathing in the beauty of our lovely area. It will be a fantastic day for all.
If you care to join in the chili-making competition, that will involve creating such a stunning chili that you could win a title such as "Outstanding Showmanship", "People's Choice" and the ultimate — "Best Chili 2008."  For more information, visit the Smith Mountain Lake, Chamber of Commerce.
Free Download
The Definitive Guide To Smith Mountain Lake Real Estate
Everything you need to know about buying or selling property at Smith Mountain Lake.