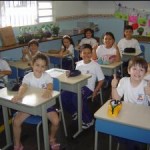 Smith Mountain Lake Christian Academy (SMLCA) will be having an Open House starting at 6:30 next Tuesday, November 18th at Halesford Baptist Church on Route 122. They would like to invite you to come and see for yourself the difference they are making in the community.
SMLCA is a private non-denominational Christian school offering Biblical, college preparatory education to Kindergarten through 7th-grade students in the Smith Mountain Lake community. The school offers a thorough academic curriculum including science, history, language arts, Latin, math, physical education, computer skills, and art/music. In addition, students participate in daily Bible study and monthly "adventures" such as kayaking, landscaping, wakeboarding, gun safety, culinary training, and publishing.
SMLCA students are privileged to have the leadership of exceptional instructors who are dedicated to both the education and character development of each student. Also, because technology is such an integral part of secondary education and is a job skill requirement, each student is provided a personal laptop during the school year.
For SMLCA to continue to offer an outstanding education to children in the area, several needs must be met. SMLCA is currently holding classes at a local church, Halesford Baptist while students and staff await a new building. The academy has secured a plot of land and is in the planning stages of construction. We have already been blessed to have a building with 15 classrooms and two gymnasiums donated at cost but need to raise $500,000.00 in an initial capital fundraising campaign. Our goal is to begin the 2010 school year at the permanent location. As the school is currently in session, an additional $125,000.00 is necessary for classroom materials, scholarships, and other operating expenses annually.
Your tax-deductible donation to SMLCA can provide the resources necessary to offer an invaluable classroom experience to children in the community. It would be our pleasure to partner with you to give financial aid to a student or equip the school with much-needed resources. We ask that you prayerfully consider a monthly contribution of $100, $75, or $50. We are grateful for any one-time gift amounts. Click here to find out more about giving to SMLCA.
Call us at 540.719.1192 or visit us on the web at www.SmlAcademy.com.