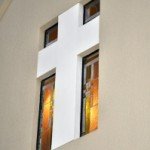 Spring at Smith Mountain Lake, Va. is truly a wonderful time of year. It is a time of hope and renewal, both in the physical world and in our hearts. The Creator was incredibly good to think up the concept of spring for us to look forward to.
One way we can thank God for all His goodness is to praise Him with the rest of His children for the many blessings in our lives and get to know Him better. Below you will find a variety of local church activities and Easter Programs to participate in. If you have not joined with other believers for a while, why not pick one of these and enjoy some fellowship!
Halesford Baptist Church will present "The Cry of Christ," a fully staged and costumed drama acting out the life of Jesus. Each evening starting Thursday, March 25 through Saturday March 27th at 7 p.m. and Sunday, March 28th at 3 p.m. the play will be performed. Admission is Free. Reservations are required. Not recommended for children under 7 due to vivid accounts of Christs death. Halesford Baptist Church is in Wirtz, Va. For more details call(877) 317-7677 or visit www.halesford.com.
The people of Redwood United Methodist Church invite you to experience the power of the Resurrection through their special Holy Week and Easter services the week of March 28 thru April 4.  Go to www.redwoodumc.org for further details.
The Chancel Choir of Bethlehem United Methodist Church will perform the cantata "One Had To Rise," by Mike Harland and Richard Kingsmore. Sunday, March 28. 11 a.m. service. Bethlehem United Methodist Church, 13586 Old S. Moneta Road. 540-297-7957.
Come for our MEN'S and WOMEN'S BIBLE STUDY- Join the men at one of two locations on Tuesdays. 6 a.m. at Radford Baptist Church in Moneta. Or at 6:30 a.m. at the GO Agency on BTW Highway in Moneta. Join the ladies on Wednesdays at 9:30 a.m. at Radford Baptist Church in Moneta. If you have questions or need directions call 540-297-5214 or visit www.radfordbaptist.com.
Join in a time of prayer at Bethlehem United Methodist Church. Those who wish to ask for prayer and pray for others meet on Fridays at 11:15 a.m. on Old Moneta Road. Call 540-297-7957 for more information.
Fellowship with other believers at a nondenominational service and potluck afterward on Thursdays at 7 p.m. Hosted by Scottie's Fertilizer and Lime Spreading Service in Penhook, Va. You can call 540-576-3413 for more details.
Are you trying to stay sober or need support in your recovery program? Celebrate Recovery in Rocky Mount, Va. is a Christ-centered 12-step recovery program. Join them Fridays at 6 p.m. at the Gogginsville United Methodist Church in Rocky Mount. If you need directions or more info. call 540-483-3626.