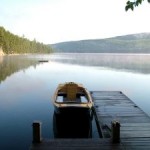 Here is a thought I am pondering on this wonderfully ordinary day at Smith Mountain Lake: If we are not content with what we have, will we be content if we get what we think we want?
Life appears to some to be a competition to see how much they can acquire. They seem to think that getting the most recent 'thing' they desire will bring true happiness. But is that the path to happiness?
It seems this attitude can cause true satisfaction to evade you forever. The more you get the more you want.  And so you never get what you want, because what you want is to be satisfied and content regardless of what is going on around you.
The apostle Paul knew how to be content. In Philippians 4:11-13, he said, I have learned to be content no matter what the circumstances. I know what it is to be in need, and I know what it is to have plenty. I have learned the secret of being content in any and every situation, whether well-fed or hungry, whether living in plenty or in want. I can do everything through Him who gives me strength.
Somehow I believe it is true, that though we may need to make some legitimate changes in our lives if we don't have peace where we are, cosmetic change and acquiring more things will not bring contentment either.