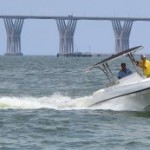 Imagine you are out on Smith Mountain Lake with friends for the day and suddenly you realize you are out of sandwiches and things to drink. Or what if your business is in a slump and you need just the right idea to give it a little kick forward?
Then again maybe your need for creative ideas is to find something just for fun, say a birthday for a friend who is a little bit unconventional, or an outing for someone who adores Shakespeare… If any of the dilemmas above strike a chord in your mind, you will love the possibilities below.
Olde VA BBQ wants to make your summer simple!  Need great food?  Let us cater to you.  540.489.1788.  Boating on the lake?  Let our new BBQ Boat bring it to you!  That's right, BBQ on the Lake serves BBQ sandwiches, ribs, chicken, frozen lemonade, and drinks.  Call the boat at 540.263.1673.
If you've ever thought about producing a commercial for your business, let TELEMEDIA show you just how affordable advertising can be!  We specialize in high-definition commercials, long-format video production, DVD authoring, and more!  We produce national quality commercials at an affordable price!  Call 540.238.8549 or visit  www.telemediaproductions.com.
Shakespeare and Verdi:  When geniuses collide!  Opera Roanoke opens its 33rd season on October 3rd with Verdi'c comic Falstaff and closes with his Otello.  A performance of Mahler's Song of the Earth, a Valentine's Day Gala, and a recital of music with Shakespeare texts round out the season.  Tickets at 540.982.2742
Art on Depot: New gallery with many local artists.  Fun and Funky in the renovated old Electric Company.  Jewelry, art, fused glass, mosaics.  Find that perfect unusual gift.  Opened daily Tuesday – Friday 10:00 am – 5:00 pm.  Space for artists to work while the public is invited to watch. 207 East Depot St. in Bedford, Va. Phone: 540-587-8878 or 540-871-0608.