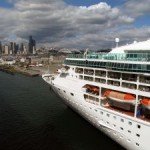 Did you know that you can actually take a cruise ship around the lovely Smith Mountain Lake, Virginia? What is more is that the prices are quite reasonable for this enjoyable summer pastime. They start at just $20 if you schedule one for April. Call for prices on later events and cruises at 800-721-3273 or visit them on the web at www.vadarecruises.com. Below you will find a few highlights for the month of May. Dates and prices here were current at time of publication.
May 5th – Wildlife Wednesday Cruise. Enjoy a 2 hour Lunch Cruise while a Ranger from the Smith Mountain Lake State Park discusses the interesting Wildlife we have on the Lake.
May 9th – Mothers Day Cruise. Mothers get a $5.00 discount. Let mom know how special she is, bring her out for a 2 hour cruise and lunch.
Remember the Smith Mountain Lake Poker Run is May 22nd. Virginia Dare & Portside are a card stop. Come by and watch some of the most colorful boats on the lake.