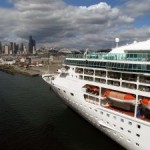 Did you know that you can take a cruise ship around lovely Smith Mountain Lake, Virginia? What's more, the prices are quite reasonable for this enjoyable summer pastime. They start at just $20 if you schedule one for April. Call for prices on later events and cruises at 800-721-3273 or visit them on the web at www.vadarecruises.com. Below you will find a few highlights for May. Dates and prices here were current at the time of publication.
May 5th – Wildlife Wednesday Cruise. Enjoy a 2-hour Lunch Cruise while a Ranger from the Smith Mountain Lake State Park discusses the interesting Wildlife on the Lake.
May 9th – Mother's Day Cruise. Mothers get a $5.00 discount. Let Mom know how special she is, and bring her out for a 2-hour cruise and lunch.
Remember the Smith Mountain Lake Poker Run is May 22nd. Virginia Dare & Portside is a card stop. Come by and watch some of the most colorful boats on the lake.
Free Download
The Definitive Guide To Smith Mountain Lake Real Estate
Everything you need to know about buying or selling property at Smith Mountain Lake.