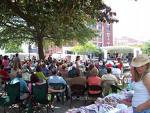 Are you interested in 5 days of entertainment and interesting education right here in Smith Mountain Lake, Va.? Elderhostel will be hosting a fabulous 5 day program at The Skelton 4-H Educational Conference Center, March 15 – 20, 2009.
The Elderhostel Program Itinerary will consist of 'Trails Across America', 'Comedy in Film', 'Kings and Queens of England'. Prepare to be amazed, entertained and educated when it comes to any Elderhostel production.
'Trails Across America' covers the wide variety of scenic and historic trails in our country and allows you to learn how and why they were created.
'Comedy in Film' will be a wonderfully funny and lively time with some of the best film comedy of all time. Remembering Laurel and Hardy, Charlie Chaplin, Bob Hope, Martin and Lewis and many more.
'Kings and Queens of England' is a fascinating study. Learn how English rulers such as King Henry and Queen Elizabeth I built their empires. Also covers current royalty.
These 5 grand days are produced in association with the Smith Mountain Lake 4-H Center. All lodging and meals with full amenities, along with programming will be provided at the center at a package price of $572.
See the Elderhostel website for further information.