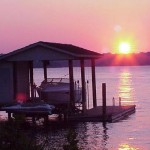 We recently had a question from a Smith Mountain Lake real estate owner about how to get repairs done on their dilapidated dock.
"I have an old dock that is falling down and want to rebuild it. I have  365 ft of shoreline with a boathouse and docking. The old dock is smaller than my new one will be. Where do I get a permit for this and what else does it involve?"
Since there are many others at the lake who may find this question relevant, especially with the summer coming on, below is some information that may be helpful.
To do these kinds of dock repairs, you would first need to contact Appalachian Power (American Electric Power)  at 540-489-2556.  They deal with permits and regulations for the homeowner. Lisa Hammock is usually very helpful.  You can email her if you prefer at lhhammock@aep.com or aepsmp@aep.com.
If you need a dock builder,  Erik Plyler at Plyler Docks is a great option. You can contact him at 540-721-5253 or email him at erikplyler@hotmail.com. If you hire a builder, they will help you to be sure that permits and other necessary details are taken care of.
Free Download
The Definitive Guide To Smith Mountain Lake Real Estate
Everything you need to know about buying or selling property at Smith Mountain Lake.