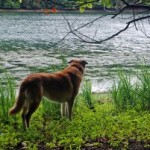 I have a friend in Franklin Co. near Smith Mountain Lake who has 8 beautiful golden retriever puppies to sell. (If you are interested leave us a note with your email and we will pass it on to her.) If those pups are anything like their lovely mother, they will be fabulous dogs to own at the lake. Faith (the Mom) will fetch things thrown into the lake, try to save people who pretend to be drowning and chase fish, etc. all day long. What a great breed to own if you live on the water!
That got me thinking and wondering what other breeds of dogs would be good to have as pets if you live at Smith Mountain Lake and love to be on the water. I did a bit of reading on the subject and these are some of the dog breeds I came up with that love to play or work in the water. I won't give much detail on each breed as you can look up further info. on any of the breeds listed here. But they all sound like wonderful animals to own if you like to spend time outdoors and in or on the lake.
Chesapeake Bay Retriever – A large, muscular breed that has a  double coat that naturally repels the water.
English Setter –  A pretty speckled dog that makes a great family pet if you can offer it lots of activity and stimulation.
Golden Retriever –  Big family dogs that were bred to retrieve fowl and have an instinctive love of water so strong it's hard to keep them away from it.
Portuguese Water Dog – These middle size dogs are extremely smart and as such need mental and physical activity such as swimming to keep them happy.
Newfoundland – Huge dogs with huge hearts and well known for their water rescue work.
Labrador Retriever – Perhaps the most popular breed of dog in the world; loves water and being wherever its family is.
Irish Water Spaniel –  A sporting dog with an incredible curly coat, who loves to be in the middle of the fun.
Schipperke – A small lovable dog who is a quick learner on land or at sea.
Standard Poodle – While this sometimes pampered dog may surprise you, they are quite fond of water as long as they are with the family.