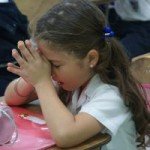 Smith Mountain Lake Christian Academy has received some very exciting news. They are very pleased to announce that all applications submitted prior to July 18 will receive their Founders Scholarship in the amount of $1000 for the 2008-09 school year!
This generous gift was made possible by several benefactors who strongly believe in the schools mission and vision. It also affirms their commitment to doing everything possible to be sure that cost would not be the prohibitive factor in choosing whether or not children can attend SMLCA.
The school will be having another Open House at Halesford Baptist Church on Tuesday, July 15 at 6:30 pm. It will a great time to meet our Board and get specifics on the school year which will begin on August 20th, Lord willing.
For more information you can visit their website at  http://www.smlca.org/ or phone them at 540-719-1192.