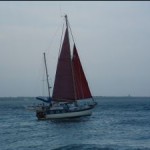 This weekend in Smith Mountain Lake, Virginia, you can enjoy a wonderful Smith Mountain Lake tradition: a sailboat race from the vantage point of land or water. If you are a sailing enthusiast, you may want to enter the Fall Sailing Regatta. If you are like me and just love the water and watching the boaters do their thing, you can have fun as an observer. If you miss out this year, you can always check out the race next year!
Below are some of the details should you wish to participate. Whatever the case, come to Pelican Point Yacht Club at Union Hall on Sat. & Sun., October 11th and 12th and enjoy the day. The weather is supposed to be lovely so that hopefully everyone involved can have a perfect fall day.
Boat Registration – 10:30 – 11:00 a.m. $10.00 – SAIL NUMBERS REQUIRED
Skippers' Meeting – 11:00 a.m. Saturday
1st, 2nd, and 3rd place trophies for all three PHRF classes (to be presented following Race 3 on Sunday)
Social and Dinner following 2nd race on Saturday
Dinners:  $20.00 per person – Kids 12 and under eat free
Sponsored by Jane Sullivan Horne, Realtor®, and Blackwater Yacht Racing Association
Free Download
The Definitive Guide To Smith Mountain Lake Real Estate
Everything you need to know about buying or selling property at Smith Mountain Lake.