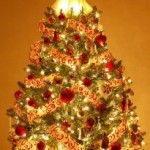 Now through Jan 5 – Mariner's Landing presents Smith Mountain Lake Holiday Festival of Trees – Mariners Landing Resort Community and Conference Center is hosting the Smith Mountain Lake Region's first Holiday Festival of Trees to benefit area non-profit and community organizations.
From now through January 5th, local non-profit and community organizations will have their unique holiday tree decorated at The Pointe in Mariners Landing. Contributing organizations include Couples and Kids: A Counseling Center for Families, the Bedford Area Educational Foundation, Goodwill Industries, the Republican Women's Club, Crisis Line, the Bedford Humane Society, EastLake Business Association, the Agape Center, and the Boys and Girls Club of Central Virginia.
Area residents are asked to visit The Pointe at Mariners Landing during normal business hours to vote for their favorite tree! The tree which collects the most "votes" (dollars) will also receive a $500 donation from Mariners Landing.
"Votes" will be collected at the front desk on the main level of The Pointe, Building #1 through January 5th during the following hours: Monday, Tuesday: 8 am – 7 pm, Wednesday – Saturday: 8 am – 9 pm, Sunday: 8 am – 6 pm. Though the winner will be announced at the Smith Mountain Lake Chamber of Commerce's Business After Hours on December 18th, again, donations will be accepted through January 5th. Vote early and vote often! – Mariner's Landing, 1037 Whitetail Drive, Huddleston – 540-297-9499
Free Download
The Definitive Guide To Smith Mountain Lake Real Estate
Everything you need to know about buying or selling property at Smith Mountain Lake.