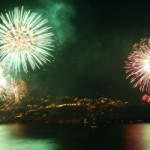 An Appeal To Help Keep Smith Mountain Lake Fireworks Going:
For over ten years the Saunders Volunteer Fire Company has been hosting the Independence Day Fireworks and Celebration at Parkway Marina. It is our major fundraising project. Thousands of residents and guests to the lake participate in the celebration and view the fireworks. Expenses for this event have far exceeded our expectations and we need your help to continue.
If you have enjoyed the fireworks and would like to see them continued, please consider making a tax-deductible donation to Saunders Volunteer Fire Co. You may donate online at www.SMLFireworks.org or by mail. Please note on your check that it is for the SVFC Independence Day Fireworks. Mail your check to:
Saunders Volunteer Fire Co.
P.O. Box 14
Huddleston, VA 24104.
You may contact me at (540) 297-1116 with comments or suggestions for
improvement of the event.  We are also in need of volunteers to help on the day of the event.
Sincerely,
John Honaker
President
Saunders Vol. Fire Co.