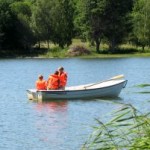 If your kids enjoy going out on Smith Mountain Lake and doing a little fishing, then you won't want to miss out on this free fishing contest at the Waid Recreation Area in Franklin County. All great fisherfolk got their start somewhere, and many of them likely had a parent, grandparent, etc. who showed them the ropes. If your son or daughter under the age of 17, likes to fish, then this will be a fun opportunity to compete with others of like mind.
The event will be held on Saturday, Oct. 10th from 9:00 in the morning until 1 pm. It is open to ages 17 & Under. Fishing contests, fly fishing demos and contests, prize drawings, fly tying, and trout fishing. For more info. contact Angel Young at angelyoung@franklincountyva.gov.
You can also go to https://www.playfranklincounty.com/ for information.
Free Download
The Definitive Guide To Smith Mountain Lake Real Estate
Everything you need to know about buying or selling property at Smith Mountain Lake.