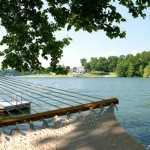 More and more folks are stumbling upon our lovely Smith Mountain Lake and finding peace on its gentle shores. Here's the story of one such person.
Sara Elizabeth Timmins' career has included acting in various theater and film roles as well as production work in independent films, movies and television shows such as Cold Case and The West Wing. She's worked alongside a number of famous actors, including Tom Cruise, Jamie Foxx, Lynda Carter and Anne Hathaway…
In addition to acting and producing in California, Timmins travels to schools as a motivational speaker. "I love to inspire and motivate people. I help students understand the importance of their choices today and how it affects their future," she said.
Despite years of performing, producing and speaking, Timmins had a lingering longing. During that walk at Smith Mountain Lake two years ago, she discovered what was missing.
"I've always been go, go, go, not living in the moment, never appreciating what was around me," she said. "There is a magic to the lake. For me, it was about getting away from the city, the cellphone, the go, go, go. What was missing was what I would speak about: making an impact."
Timmins returned to Los Angeles with a renewed perspective. The soul-searching journey inspired her to create a film company, Life Out Loud Films.
"My mantra in life has been, 'Dare to live life out loud.' Dream. Act. Risk. Embrace," she said. "I was putting 800 percent into other people's projects and I thought maybe it's time to do my own."
A new and radical risk was the next step for Timmins – creating and producing a film from start to finish. The main character? Smith Mountain Lake.
Read the rest of this awesome article by clicking here!
For more information on Sara Elizabeth Timmins, or her film production company, visit lifeoutloudfilms.com. Shooting for the SML movie starts in the Fall of 2010!

Free Download
The Definitive Guide To Smith Mountain Lake Real Estate
Everything you need to know about buying or selling property at Smith Mountain Lake.