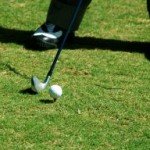 While many of you who enjoy golfing at Smith Mountain Lake are pros, there are still many of us who fall in the amateur category. So I got to thinking about where we amateurs could go to get some free tips to improve our game.
It never ceases to amaze me how frequently I forget to use the internet to find things. As many years as I've been using the net and as many things as I have found to be lifesavers there, I still don't always think to look there first. Needless to say, I have found some great sites that give free golf lessons, videos, and the whole nine. Here are just a few of the ones that looked helpful to me. You may be able to find even more on your own.
Top 100 Golf Tips – A nifty site where many of the world's best golf coaches have come together to give free tips and input to improve your game.
Golf Digest For Beginners – offers golf drills, video lessons, and free golf tips.
Tom's Golf Tips – has free coaching, feature-length lessons, and tips for specific problems.
Paul Wilson Golf – the inventor of the swing machine golf technique offers free lessons for beginners, women/ladies, average players, and experts.
Free Download
The Definitive Guide To Smith Mountain Lake Real Estate
Everything you need to know about buying or selling property at Smith Mountain Lake.