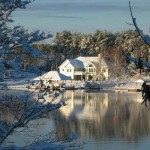 If you have a home at Smith Mountain Lake, Virginia, or are considering some real estate in the area, you will want to take advantage of this free E-course. Paul Moore of Smith Mountain Homes, a local author, and successful REALTOR®, is offering a free internet course on real estate issues regarding Smith Mountain Lake.
Do you need this e-course?  Let me ask you some questions.  Do you know:
How to avoid buying an "unbuildable" lot (and 3 ways many people get burned)?
The 7 factors that drive Smith Mountain Lake property value?
How to avoid expensive flood insurance at your waterfront property?
How the lake authorities can remove your dock privileges (and how to prevent them)?
How an unethical seller or real estate agent can cost you $$$?
These questions, topics, and much much more are answered in detail in The Definitive Guide to Smith Mountain Lake Real Estate e-course.
I understand how critical this information is for you. 
That's why I'm giving you a special opportunity – the chance to get this e-course for FREE! Simply click here, if you would like to sign up!