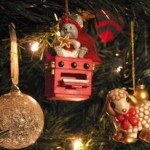 There is a never ending need for fun recipes in our daily activities at Smith Mountain Lake. This months offerings are not just about recipes for food however. How would you like a recipe for making clay Christmas tree ornaments? Or better yet, some edible Christmas tree ornaments?
Scented Christmas Ornaments
4 oz. can (about 1 c.) cinnamon
1 tbsp. cloves
1 tbsp. nutmeg
3/4 c. applesauce
2 tbsp. white glue
In medium bowl, combine cinnamon, cloves and nutmeg. Add applesauce and glue; stir to combine. Work mixture with hands 2 to 3 minutes or until dough is smooth and ingredients are thoroughly mixed. Divide into 4 portions. Roll out each dough portion to 1/4 inch thickness. Cut dough with cookie cutters. Using straw or toothpick, make small hole in top of ornament. Place cut out ornaments on wire rack to dry. Allow several days to dry, turning ornaments over once each day. Use these ornaments to decorate gifts, hang on tree, etc.
Clay Ornaments Recipe
2 c. baking soda
1 c. cornstarch
1 1/4 c. cold water
Mix soda and cornstarch together, blending well. Add the cold water and mix well until mixture is smooth. Boil for one minute until it has consistency of mashed potatoes. Stir constantly. Spoon out on a plate. Cover with a damp cloth and allow to cool. Knead dough and roll out on waxed paper. Cut out designs with a cookie cutter or shape by hand. Let dry until hardened, about 1 to 2 days. Paint ornaments with tempra or water colors. Dry well and coat with shellac or clear nail polish. Hangers may be mounted on back with glue, or pressed into dough before it dries.
Edible Ornaments
Use a basic sugar cookie recipe, after rolling it out, use glass or can to cut large circles. Use a wide straw to cut a hole near the top. After baking the cookies, paint  family names on each one. You can also give them to teachers, friends, and family as gifts. On Christmas Day everyone gets to eat the cookie with their name on it.