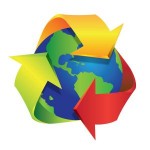 Many of us who live at Smith Mountain Lake, Virginia try to cut down on trash products going to the landfill by recycling. Everyone knows by now that the need for re-using our waste materials is becoming a more serious issue.
Landfills are full of overflow. Toxic chemicals leach into the waterways and all sorts of other issues arise as a result of the monstrous amounts of trash Americans use every day.
Greener Pastures Services is a local, family-owned curbside recycling service for residents and businesses. Now you can be "greener",  contribute to a cleaner environment, and support a local business at the same time.
Businesses receive a one-month risk-free trial period to determine a pick-up plan that suits their particular needs. They accept cardboard and glass! Monthly rates start at $35 for bi-weekly pick-up or $65 for weekly pick-up. If you would like more information on Greener Pastures you can visit www.gps-recycling.com. Call 540-334-5892 for current prices.