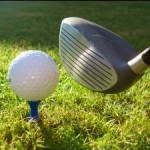 I am not a big golfer, but I know beauty when I see it and Smith Mountain Lake's Mariner's Landing is a gorgeous golf course.
Listed as one of the "Best Places To Play" in the 2008/2009 Golf Digest, this 18-hole championship golf course is a must for those who appreciate the sport. Mariners Landing offers several possibilities as far as membership options and is open to the public as well. Also, their membership rates and other fees seem reasonable compared to other top-of-the-line courses in the region.
There are several special golfing activities at Mariners Landing throughout the year. Two of the most popular events each year are the Four-Ball Open, where local professionals and low-handicap amateurs can show their stuff, and the Andrew Haley / SML Lions Memorial Junior Tournament. Other fun events are the Monday Night 9 hole captain's choice and covered dish dinner, Wednesday evening captain's choice, known as Boy's Night Out, and Senior Men's Golf Association (Greybeards) play each Tuesday and Thursday morning.
Any way you play it, if you love golf, you will love the Mariner's Landing Golf Course!
Free Download
The Definitive Guide To Smith Mountain Lake Real Estate
Everything you need to know about buying or selling property at Smith Mountain Lake.