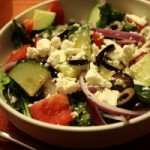 Are there any Greek cuisine lovers at Smith Mountain Lake besides me? If so, don't miss out on the Greek Festival in Roanoke on September 18th, 19th and 20th from 11 am. to 10 pm Fri./Sat. and 12 to 7 pm. Sun.  I love that a portion of the proceeds for this fun event will go to benefit The Rescue Mission and Center in the Square.
If you have never tried Greek food, then you may be in for a treat. The Greeks don't go in for drab foods, they love rich flavors and tastes. The culture as a whole is full of loving, intense, laughing, hard working folks. I can't say I have experienced another culture that I liked better. When I was a kid, we had good friends who were very Greek and my sister and I adored visiting them. They played hard, loved the Lord and were rich in compassion, honesty and ever enjoyed good food. I was exposed to some great new ideas and taste experiences during those visits.
If you love all things Greek or enjoy new things, go check out the Greek Festival at http://www.roanokegreekfestival.com. Besides the great food there will be live music, traditional costumes and dancing, pottery, jewelry, painting, contests, and children's events. A fantastic time to be had by all!