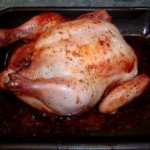 Many years ago, before I knew Smith Mountain Lake existed, I knew some elderly ladies who loved to cook. One was my Grandmother who always had some of the best food at her house that I had ever tasted. Both ladies were pretty health-conscious too, so our family was excited to get hold of a couple of their recipes. With Thanksgiving coming up, I thought I would share two of them. Enjoy and have a blessed Day of Thanks!
Honey-Glazed Duck (or Chicken)
1 5lb. bird
1 and 1/2  tsp salt
1 tsp poultry seasoning
1/2 tsp paprika
1/2 cup honey
1/3 cup lemon juice
1 and 1/2 tsp dry mustard
5 thin slices of lemon
5 thin slices of onion
Clean the bird and prick in several places to allow the fat to drain while cooking. Combine salt, poultry seasoning, and paprika in a bowl and mix well. Rub the mix all over the inside and outside of the bird. Place in a 450-degree oven for 20 minutes. Drain off fat and reduce oven to 350 degrees.
Mix honey, lemon juice, and mustard in a bowl and brush sauce onto the bird abundantly. Bake for 1 hour.  Brush the glaze onto the bird once more, secure the onion and lemon slices to the bird with toothpicks, and continue baking for 20 minutes or till done.
Grandma's Baked Custard
7 farm fresh eggs
2 quarts whole milk
1 cup honey
1/8 tsp nutmeg
1/2 tsp cinnamon
1 tsp salt
1/2 tsp vanilla
Blend all ingredients EXCEPT milk. Then add the milk and mix well. Pour into baking dishes. Bake at 400 degrees in a preheated oven for approx. 1 hour (less if shallow pans are used).